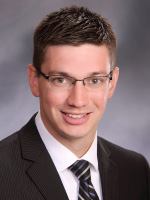 Dr. Matthew Bonsall was born in Reading and raised in Berks County. He earned both his Bachelors of Science degree and Doctoral degree from Bloomsburg University. He became Board Certified in Audiology by the American Board of Audiology.
Dr. Bonsall is a fellow of the American Academy of Audiology, as well as an active member of the Academy of Doctors of Audiology and American Speech-Language-Hearing Association. He has been practicing since 2014. His areas of special interest include Advanced Hearing Aid Technology, Pediatrics, and Electrophysiological Testing.
Dr. Bonsall and his wife have one child.