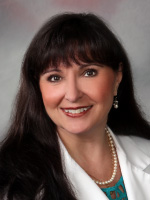 Rosemarie earned her baccalaureate degree in Nursing from Indiana Wesleyan University. She then completed her Masters degree as a Family Nurse Practitioner from Purdue University. Rosemarie is certified by the American Academy of Family Nurse Practitioners. She has been inducted in the Sigma Theta Tau International Nursing Honor Society.
Rosemarie has been in the nursing/medical field since 1980 and has practiced as an RN in all areas of the nursing profession. She specifically has been practicing in the specialty of Otorhinolaryngology for eight years; prior to that she has been in the Family Practice setting. At the end of this practice, that she joined our practice in 2007.
In conjunction to working as a Nurse Practitioner, Rosemarie has also been an Adjunct professor for Purdue University's Master of Nursing program specifically for Nurse Practitioners. She also was a professor for Vincennes University/Ivy Tech School of Nursing for Baccalaureate and Associate degree nursing students.
Rosemarie is an active member of the American Academy of Nurse Practitioners, the Coalition of Nurse Practitioners of Pennsylvania, Sigma Theta Tau International Honor Society and the Society of Otorhinolaryngology/Head and Neck Nurses.
She resides in Zionsville, PA with her husband and five children.